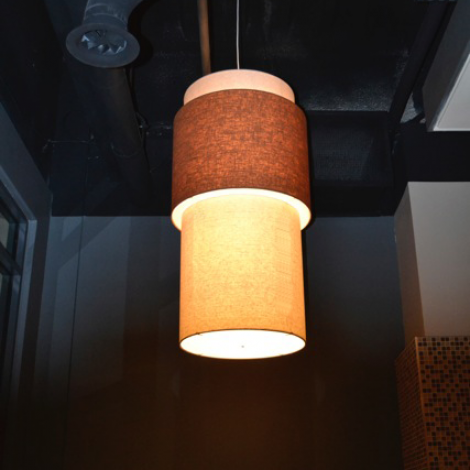 LumaShade™ commercial Double Cylinder LED pendants are classy, fun fixtures. They are available in a variety of configurations.
Parameters of displayed shade:
Inner Drum Diameter : 18"
Inner Drum Height : 40"
Inner Shade Covering : Paper : Kraft Light
Outer Drum Diameter : 24"
Outer Drum Height : 17"
Outer Shade Covering : Designer Linen : Chili
Acrylic Diffuser Disc Size : 17½"
LumaDisc LED Light Diameter : 16"
LED Color Temperature : Warm White
Each fixture comes with our revolutionary LumaDisc™ delivering even, vibrant light at a fraction of the cost of traditional incandescent lighting. A optional, removable white, light-diffusing acrylic lens in the diameter of your completes the look.
Please allow up to 4 weeks for delivery on these items.
Commercial Pendant With Integrated LED Lighting
Select from our library of shapes...or send us your own.
Select from our library of fabrics...or send us your own.
Select from our selection of LED light modules and dimming controllers